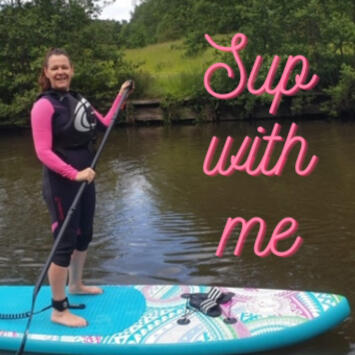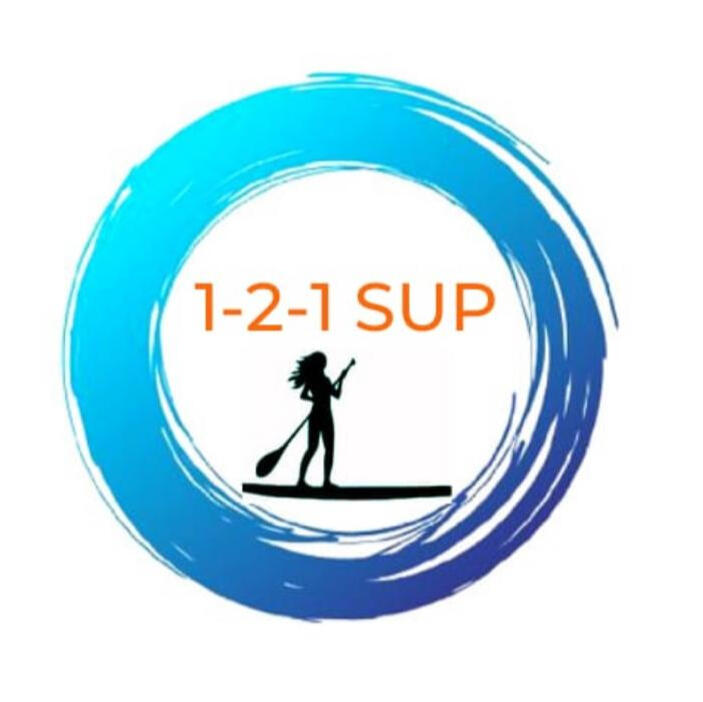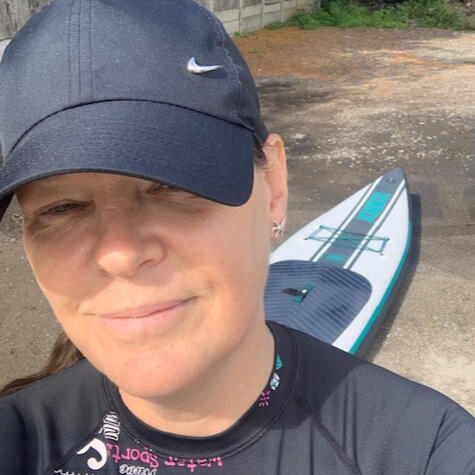 Give the gift of paddle lessons this Christmas to redeem from Spring 2024. From £40 🎄❤️
Call 07564 295408 or email
debbie.ashley121sup@gmail.com
121 Sup
( PADDLE boarding )
Hi and Welcome to 121 SUP. We are a Cheshire based company offering lessons in SUP (Stand Up Paddle) boarding. 121 SUP operates in association with Grip Adventures and is based in Sale, Greater Manchester on the historic and beautiful Bridgewater canal. Other locations are available. Lessons are tailored to individual need. Perhaps you have already had a try at SUP and are now ready to improve your technique? Or you are totally new to it having never stepped on a board before?
Imagine a Sunset paddle after a hard day on a beautiful summer evening?
Whatever your needs, Debbie Ashley will help.
THIS IS ME
Debbie🤗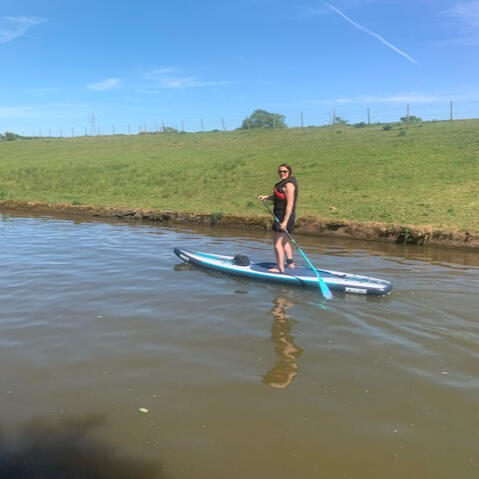 Debbie Ashley was 50 before she stepped on her first SUP board whilst on holiday in Australia. She went on to be totally smitten by the sport and gained her ASI (Academy of Surf Instructors) SUP wise qualification before going on to complete her ASI Level One Flat Enclosed Water Instructor qualification. She offers 1:1 tuition (1 instructor, 1 client) and this means you have her undivided attention during the course of your lesson. This may be on a river, lake or canal. Each lesson is of 1.5 hours duration and takes place at a location in the Cheshire region. Above all, this is going to be fun!
Gallery
Showing Off Again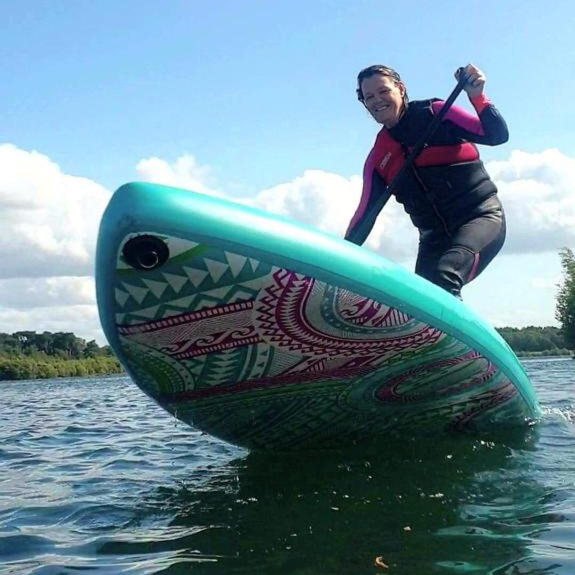 A Conversational Paddle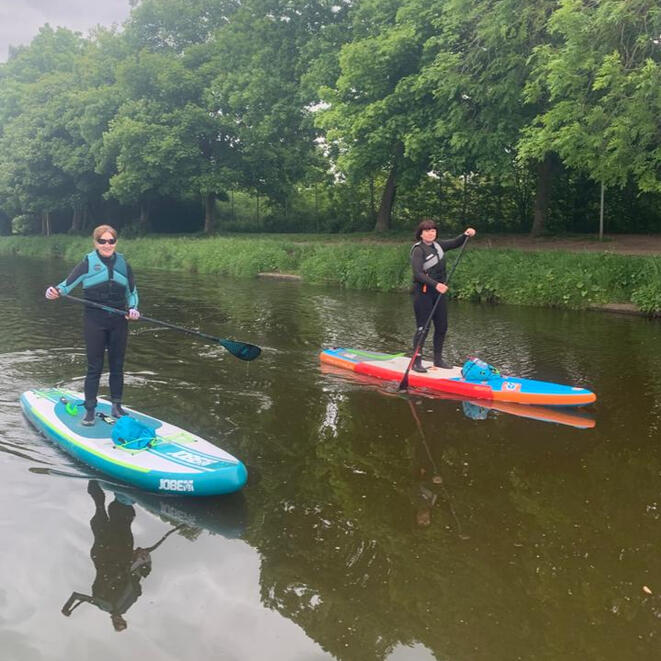 So Idyllic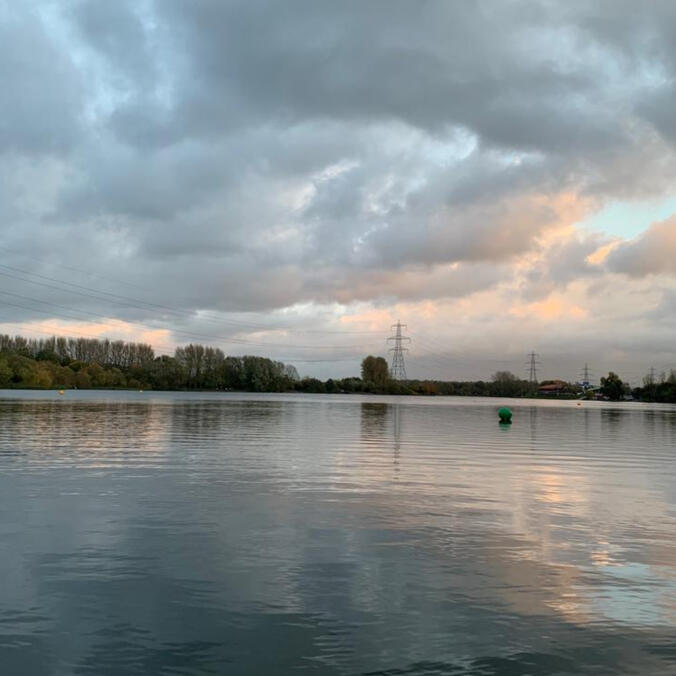 I Wasnt By My sElf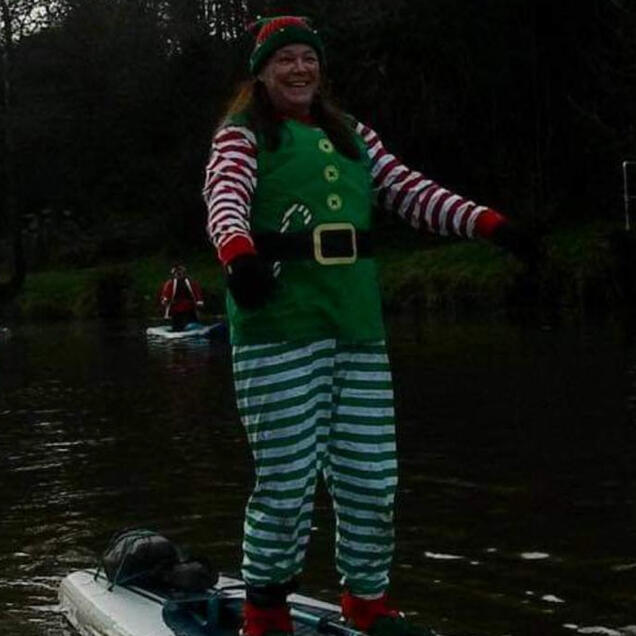 A Video To Get You Excited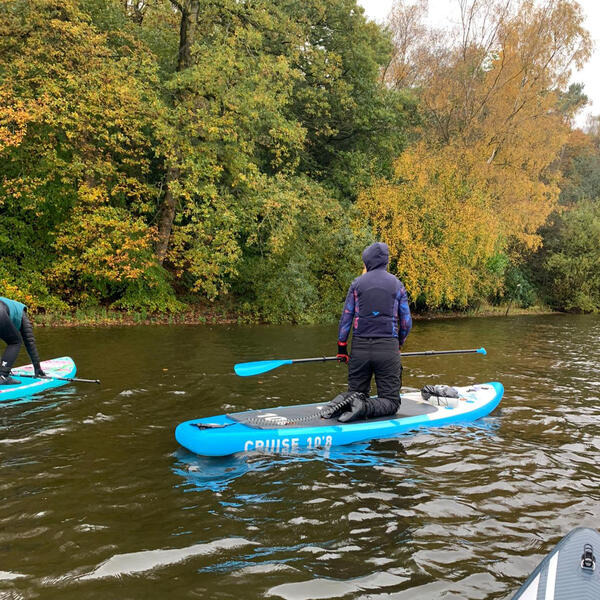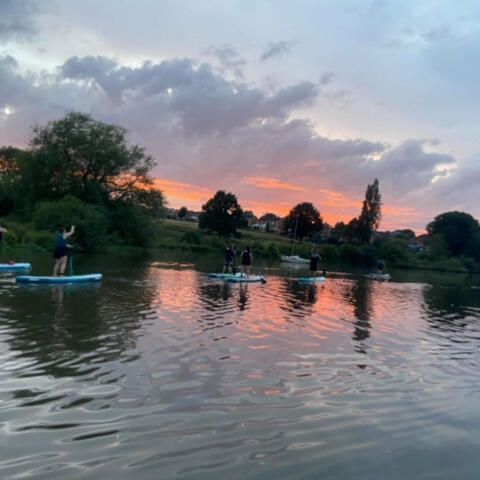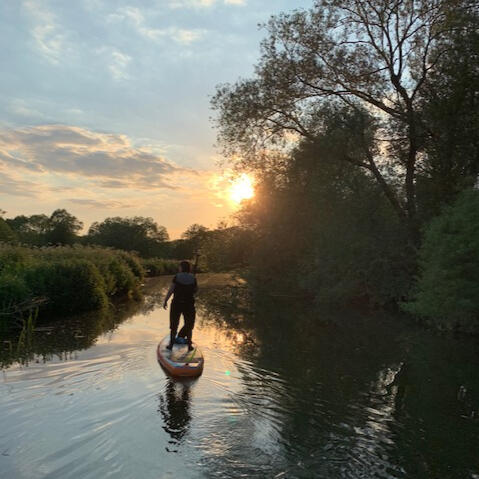 What We Offer
Each lesson comprises of comprehensive Instruction including:
1/2 hour first lesson dry land tuition:
• Knowledge of your board and care of equipment
• How to employ the correct paddle technique (to get the best from your performance) and
• Above all, how to stay safe while you are having fun!
1 hour on the water learning to employ techniques including:
*How to stand/balance
*How to paddle straight
*How to stay safe on the water
Debrief afterwards seeing how it went re tips for next session.
Contact
Debbie Ashley 07564 295408
---
PRICING
PER LESSON
Single paddler. A 1:1 lesson £50
Single paddler: agreeing to be part of a small group (no more than 5) £40
Couples: £60
Bring a buddy: Each person (2+ from same party) pays £30 each
Duration 1.5 hours
Reviews
Gemma:
"I had my very first session with 121sup. I was very excited and nervous to try something new. Debbie was very welcoming and easy to get on with.After she went through all the safety advice and guidance she showed me how to get on and off the board safely. I felt at ease and she really encouraged me. We got onto the water on the canal and I felt really proud of myself being able to stand up paddle.It was a lovely session and the fact it was 121 really helped my confidence. Debbie was very attentive and I had a great little work out too. Thank you so much. I can't wait for the next session."
Faye:
"Debbie's a natural teacher, who responded to all my questions and wobbles on the board like a pro. I got lots of nice feedback and encouragement and feel like I've learned loads. Thanks for the lesson Debbie!"
Jen:
"Successful SUP on Bridgewater canal at Sale, and a corker of a day too. First time for the chaps, who were straight up thanks to a bit of expert tuition from Debbie at 121SUP. I learned loads on technique, it's all about the practice now...bring on the summer."
Janine:
"What an amazing experience! We've had two sessions with Debbie and can't wait for the next. Through clear, knowledgable instruction, it doesn't take long to feel confident and enjoy the activity. First session was me and grandson, aged 11 and the second session my five year old grandson joined us too. Such a fabulous time, can't recommend 121SUP highly enough."
Jason:
Had my first lesson yesterday with Debbie from 121SUP. Was great fun, and learned much more than I could have imagined. Debbie made the whole experience fun and enjoyable. I would definitely recommend everyone having a few lesson when starting out. I'd say if you're within an hour of Manchester, 121SUP is a must. A family had just finished their second lesson when I arrived and loved it. I've already booked my second..."
Sarah:"Thank you for the SUP lesson. Both me and Charlotte loved it! Great instructions, loads of tips on techniques to gain more confidence and a great chinwag afterwards!
Definitely be back hopefully with own board next time! Thank you. "
Terri:
"Well what can I say? Not being the most confident I battle with my head more than anything. Telling me I'm a failure, can't do things! Well this was probably my biggest fear. Debbie makes you believe in yourself, instilled a confidence that no one has ever done. I cannot wait to return. Thank you Debbie. Amazing!"
Ralph:
"Having started SUP'ing recently, I decided to get a lesson and was recommended to 121sup. Great choice. During first lesson Debbie was very patient, clearly very skilled but an excellent instructor with a natural ability to put clients at ease. I learned far more than expected for a first lesson; great value for money. I will certainly be back for more, and would recommend 121Sup to all, without hesitation! Great location if you are in the Manchester area; worth the travel if you are further away."
TERMS & CONDITIONS
The following terms and conditions apply to all bookings undertaken with 121SUP.
1) All participants must be able to swim a minimum of 25m unaided.
2) Participants must be a minimum age of 18 years.
3) Children to be accompanied on the water by their parent
4) Children between 6-10 years can participate but must be with the instructor on their board.
5) Children must listen to instruction. Should the instructor feel the child's actions put them at risk the lesson is ended immediately.
6) All participants must agree to wear a buoyancy aid.
7) all participants must complete a health questionnaire before the lesson.
8) should the instructor feel a participant might not be safe on the water they have the right to cancel the lesson.
9) £10 non-refundable payment at time of booking with the rest paid on the day of the lesson.
10) Xmas vouchers are to be redeemed between 1st April and 30th June 2023.
11) Cancellations. The instructor reserves the right to cancel the lesson at short notice, as due to weather this may be necessary to keep learners safe.
Learner cancels lesson with 24+ hours notice: no charge
Learner cancels lesson on the day FULL lesson charge applies